Articles
Kopecký won the 47th Barum Czech Rally Zlín
27. 8. 2017 - Petr Říha
The Czech driver Jan Kopecký (Škoda Fabia R5) won three times in a row Barum Czech Rally Zlín, this being his sixth victory overall. Barum rally is the sixth event of FIA European Rally Championship (ERC) series and likewise the sixth event of TrueCam Czech Rally Championship 2017 (MČR). On the second place remained Alexey Lukyanuk from Russia (Ford Fiesta R5) who was almost one minute behind him. The third place scored Roman Kresta (Škoda Fabia R5) after the thrilling last stage.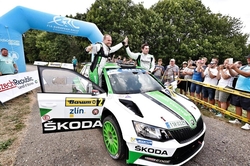 Jan Kopecký was a favourite for the victory since the beginning and on Sunday he was steadily increasing the gap between him and Lukyanuk. He won five out of six stages on Sunday. He took the last stage quite easy, finishing fifth, but Lukyanuk wasn't strong enough to take him.
With each passing stage, his leg hurt more and more, a sad result of an accident he suffered three months ago. The driver of Russian Performance Motorsport team surely was happy to be back and finish Barum rally, though he seemed a bit disappointed with the second place. The most nerve-wrecking fight was for the third place. After Václav Pech was out (Ford Fiesta R5), Tomáš Kostka (Škoda Fabia R5) jumped on his place, having 3 seconds on Kresta, but Roman Kresta showed that he knows these sections better than anyone and overtook him, winning SS Košíky. So after three years absence, it was a podium come-back for Roman Kresta on Barum rally.
Category ERC2 won Hungarian Tibor Érdi (Mitsubishi Lancer EVO X). The first place in ERC3 achieved Aleks Zawada from Poland (Opel Adam R2), the Czech talent Filip Mareš (Peugeot 208 R2) finished second.
Final results of Barum rally:
1. Jan Kopecký, Pavel Dresler (CZE, Škoda Fabia R5) 1:56:15.2 h
2. Alexey Lukyanuk, Alexey Arnautov (RUS, Ford Fiesta R5) + 55.5 s
3. Roman Kresta, Petr Starý (CZE, Škoda Fabia R5) + 1:22.8 min
4. Tomáš Kostka, Ladislav Kučera (CZE, Škoda Fabia R5) + 1:25.8 min
5. Kajetan Kajetanowicz, Jaroslaw Baran (POL, Ford Fiesta R5) + 2:06.4 min
6. Marian Griebel, Stefan Kopczyk (DEU, Škoda Fabia R5) + 2:08.3 min
7. Martin Koči, Filip Schovánek (SVK/CZE, Škoda Fabia R5) + 2:31.4 min
8. Pavel Valoušek, Veronika Havelková (CZE, Škoda Fabia R5) + 2:51.6 min
9. Bruno Magalhães, Hugo Magalhães (PRT, Škoda Fabia R5) + 3:24.5 min
10. Bryan Bouffier, Xavier Panseri (FRA, Ford Fiesta R5) + 3:30.8 min
24. Aleks Zawada, Grzegorz Dachowski (POL, Opel Adam R2) + 12:40.2 min
36. Tibor Érdi, György Papp (HUN, Mitsubishi Lancer EVO X) + 17:25.4 min

Days
Hrs
Min
Sec