Articles
Great competition in the ERC series has attracted a lot of media
20. 8. 2023 - Roman ORDELT
This year's 52nd Barum Czech Rally Zlín 2023 is once again enjoying great media interest. Media personnel could look forward to the change of the location of the press centre, which has moved to the building of the general partner Continental Barum s.r.o. for this year. A total of 231 media personnel from 13 countries have been accredited at the press centre.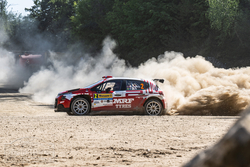 The accredited journalists were from the following countries: the Czech Republic, Poland, Slovakia, Hungary, Austria, Germany, Great Britain and Northern Ireland, France, Ireland, Italy, Spain, Sweden, Finland
Media types Number of accreditations
PRESS 48
FOTO 100
TV/VIDEO 77
RADIO 6
The most significant accredited media:
PRESS
Czech Press Agency – ČTK, MF Dnes, Magazín Rally, Autosport, Motorsport revue (CZE), Deník Sport, flat-out media agency (DEU), Motorsport media (SVK) atd.
FOTO
Czech Press Agency – ČTK, MF Dnes, Zlínský deník, Autosport, eWRC.cz, Magazín Rally, ZLIN PRESS (CZE), pl.motorsport.com (POL), Škoda weekender (GBR), rallysport.hu (HUN), Rallye Magazine (DEU) atd.
TV/VIDEO
WRC promoter GmbH (DEU), Czech Television, TV Nova (CZE), O2 TV sport (CZE) atd.
Radio
Czech Radio – Radiožurnál, Mediasport Oy (FIN) atd.