Articles
Flash news after SS7
19. 8. 2023 - Vojtěch Gargulák, David Štícha
The Saturday programme of this year's Barum rally is behind us. During a hot day, the crews had to deal with six demanding stages on three tracks. And although we witnessed exciting battles and the running order changed almost after each of the stages, the ten-time winner Jan Kopecký will once again spend the night as a leader. This was also helped by the mistake of Erik Cais, who lost almost a minute and a half due to a puncture on the sixth special stage and fell out of the top ten. On the other hand, the second place of the Hungarian Miklós Csomós is a pleasant surprise. The podium trio after Saturday is completed by the Austrian Simon Wagner, who is 28 seconds behind Kopecky.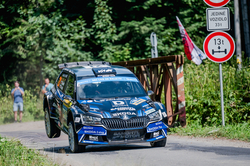 Erik Cais (CZE, Škoda Fabia RS Rally2, no.11):
"At SS6 in the village I was too fast in one of the corners and even though I knew there's a gravel, I didn't guess the speed right and unfortunately I went off to the outside, which gave us a puncture. It was my mistake. To clear that big of a gap is gonna be obviously difficult in these conditions, but we're gonna try to do everything for it."
Miklós Csomós (HUN, Škoda Fabia Rally2 Evo, no.14):
"It's a great feeling, the result is amazing so far. It's a very hard rally, very hard day, but I'm also very happy. The setup of the car and the tyres are really good, the whole team is doing really good job. It's nowhere near we were expecting to be, we thought like sixth to tenth place, so it's amazing. Tomorow we want to keep it safe and successfuly finish."
Filip Mareš (CZE, Škoda Fabia Rally2 Evo, no.9):
"Afternoon was much better than morning. I liked the performance more, the times were also more what we expected. Shame that we lost so much in the morning, for tommorow we need to figure out something so we can get even higher in the standings."
Simon Wagner (AUT, Škoda Fabia RS Rally2, no.10):
"We changed brake disks and brake pads during the midday service and it was much better from then on. The feelings are not too bad, I'm quite happy. We had big competition today, there is a lot of fast drivers and very nice stages. Let's see, tommorow is another long day and everything can happen. Jan is very fast and knows all the stages quite well so it will be very hard to beat him, also with 28 seconds that we are already behind. But like I say, everything can happen."
Dominik Stříteský (CZE, Škoda Fabia R5, no.20):
"It was a difficult day, I couldn't get up to speed all morning. It was better in the afternoon, but the loss there is big. However, the gaps between each drivers are small and I think a lot of things can happen. We have the whole day ahead of us, it will be tough on punctures and we'll see what happens."
Jan Kopecký (CZE, Škoda Fabia Rally2 Evo, no.18):
"We're hot, because it's burning here. When it's dry, the tracks are even faster. We didn't have much sleep in the night so we're quite tired. The plan for tomorrow is to have a good sleep and to continue in what we started today."
Alexej Lukjaňuk (CYP, Škoda Fabia RS Rally2, no.5):
"I don't know, we have some issue with electrics."
Hayden Paddon (NZL, Hyundai i20 N Rally2, no.1):
"We are enjoying this rally a lot, it's very challanging. We made some changes on the car, and it's working better now, so all good. We are happy where we are at the moment, we are not here for rally result, we are here for the championship."
Simone Tempestini (ROU, Škoda Fabia Rally2 Evo, no.15):
"It was a long day with nice stages. For us it was the first day in an R5 car here in Zlín. I was here two times before, but it was many years ago, so in a way it's a quite a new rally for me. We are enjoying the experience and tomorrow we hope we can have a good day too."
Joshua McErlean (IRL, Hyundai i20 N Rally2, no.12):
"It's been a long day but we learned a lot and made progress. At the moment we are tenth, but we always aim higher, that's the way we go rallying. Tomorrow is going to be quite different I think, there will be much more loose sections of the road, so it's gonna be new challenge and hopefuly we can keep the pace."
Martinš Sesks (LVA, Škoda Fabia RS Rally2, no.6):
"For sure the rally is quite hard and fast, so you have to be precise all the time. We're still learning, it's hard to find spaces behind the jumps and where will be dirt on the road, so you have to have lots of knowledge and understanding."
Albert von Thurn und Taxis (GER, Škoda Fabia RS Rally2, no. 16):
"We had some technical issues. At the begining it wasn't so bad, the power just occasionaly didn't come to the wheel after changing the gear. It only happened couple of times in SS5 and SS6, but in SS7 it started as soon as you go to full throttle, the power just didn't arrive. And then it started to make some strange mechanical noise. We don't know what is the problem yet, we're still looking for it."
Mathieu Franceschi (FRA, Škoda Fabia RS Rally2, no.7):
"We finished the day 0.6 second per kilometre slower than Kopecky at my first Barum Rally, so I am very happy. The car is working well. Everything is okay, I am enjoying it a lot, the roads are incredible. I can't wait for tomorrow to jump in Semetín. In France we don´t have these kinds of roads and you need to be brave for this section."
Efrén Llarena (ESP, Škoda Fabia RS Rally2, no.3):
"I think it was good, we tried our best. We lost a lot of time in Slušovice, we're running with the old car, but it's still working pretty well. The last stage was crazy, we tried to be as fast as possible and I'm quite happy. Tomorrow we'll try to attack even more, the tracks like Pindula and Halenkovice will be more dirty, so let's see. Fourth position is only 17 seconds away, so we have a lot of work to do."
Adam Březík (CZE, Škoda Fabia Rally2 Evo, no. 21):
"We want to get better experience here after the previous years, but we have to go carefuly as we drive a new car and we don't want to damage it. It's more about learning with the car and so far I think it's been very good. We don't push too hard to the limit, but the times are still there, so we're happy."
Martin Vlček (CZE, Hyundai i20 R5, no.22):
"Barum Rally is hot, that is what I have to say. Everything is working fine for now, we have no problems. Those guys from the ERC are ripe for healing, I don't get those times. Maybe they know about a shortcut, I don't know, I haven´t found it yet. There is nothing more to do but bow to them."
Rachele Somaschini (ITA, Citroën C3 Rally3, no.24):
"I am a bit more confident than in the morning, but it is still difficult. We have to train in these kinds of conditions. I know where I have to improve."
Roberto Dapra (ITA, Peugeot 208 Rally4, no.30):
"It has been a very difficult day. Tricky stages but tomorrow will be trickier. The level is very high. Schulz is uncatchable. We are five or six guys in less than 15 seconds. Tomorrow will be big battle."
Victor Hansen (SWE, Peugeot 208 Rally4, no.31):
"It has been a tough day. Normally is when you are here in Zlín. The feeling is good, we have fun, but the times are not as good as I hoped. They are very fast at the top, I'm just impressed. Tomorrow we will see if we can improve our pace in the early stages."
Max McRae (GBR, Peugeot 208 Rally4, no.32):
"Unluckily guide liner broken off and it was pulling on the power steering. Luckily new comes in. Other than that, it was good. We are showing good pace."
Timo Schulz (GER, Opel Corsa Rally4, no.33):
"It was a pretty good day for us. Like all the best stage time in the ERC juniors. We have a big gap now to Max and the second position, so that is what the plan was for today. We can be more comfortable tomorrow on the quite heavy stages. We will see what will happen tomorrow."
Jaromír Tarabus (CZE, Peugeot 208 Rally4, no.41):
"The feeling is great. We're trying to push Schulz, who is very fast. We're not quite there yet. We were 4 seconds faster on the first run through Troják, but he answered on the second Troják by giving us six seconds. Obviously, they're young guys, fast, hats off to them. We're still trying though and we're happy to be holding medal positions. We haven´t had a problem on the stages, a very nice rally so far."