Articles
Change of promoter did not stop media interest
28. 8. 2022 - Roman Ordelt
This year's 51st Barum Czech Rally Zlín 2022 has seen one very significant change from the media. The German company WRC promoter GmbH, which also owns the broadcasting rights to the World Rally Championship, has become the promoter of the entire European Championship. The promoter provides the exciting possibility to live-streaming each stage, produced by a large crew of more than 50 people. They are not even counted among the accredited.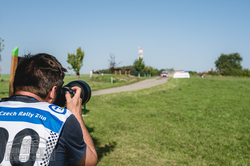 Despite this change, the Barum rally has enjoyed great support from the media. We are glad that even in the post-covid period a large number of journalists traditionally visit Zlín at the end of August. According to the promoter and the representatives of the International Automobile Federation FIA, the media interest is by far the greatest of all the ERC championship events, and not just in units nor tens. The number of those accredited is comparable to the major world championship events. A total of 199 media personnel from 14 countries were accredited at the Press Centre at Tomas Bata University in Zlín.
The accredited journalists were from the following countries:
Czech Republic, Poland, Slovakia, Hungary, Austria, Germany, Great Britain and Northern Ireland, France, Italy, Spain, United States of America, Romania, Belgium, Sweden
Types of media / Number of accreditations
PRESS 39
PHOTO 113
TV/VIDEO 33
RADIO 14
Significant media accredited:
PRESS
News Agency Company – ČTK, MF Dnes, Svět motorů, Magazín Rally, Autosport, Motorsport revue (CZE), Deník Sport, Flat-Out media agency (DEU) atd.
PHOTO
News Agency Company – ČTK, MF Dnes, Zlínský deník, Autosport, eWRC.cz, Magazín Rally, ZLIN PRESS (CZE), pl.motorsport.com (POL), Škoda weekender (GBR), rallysport.hu (HUN), Czech centre NY a Miami Times (USA), Rallye Magazine (DEU) atd.
TV/VIDEO
WRC promoter (DEU), Czech Television, TV Nova (CZE), TV Prima, O2 TV sport (CZE) atd.
RADIO
Český rozhlas – Radiožurnál, Motokecy Rock Max (CZE), Hitrádio Zlín atd.