Articles
Barum Czech Rally Zlín – announcement
29. 6. 2020 -
On 1 July 2020 from 11.30 a.m. there will be held a press conference of Barum Czech Rally Zlín organizers who will reveal the final decision, whether the anniversary 50th edition of this rally will be held in its original scheduled date or it will be postponed to 2021. The press conference will be broadcasted live on social networks.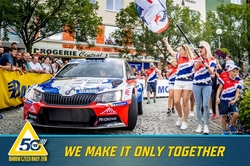 So far the transparent account of organizing Auto Klub Barum Zlín v AČR contains the overall sum of 212 848,43 CZK collected from various rally supporters..
We are really grateful for their feedback and we assure that in case of running the rally this budget will be used smart and efficiently. In case of not running the event this year all money will be returned to its donators within following days.
We are happy that beside many rally fans we have been supported also by companies and businessmen who contacted us directly and helped the rally with another sum of 350 000 CZE.
It's great that during only five days from launching this collection there have been gathered more than 550 000 CZK. However to fill the budget properly we still miss ca. 3 000 000 CZK, but we are still optimistic and believe that we secure the whole amount before 1 July.
Account for Barum Czech Rally Zlín donations:
5886761329/0800
IBAN: CZ28 0800 0000 0058 8676 1329
BIC (SWIFT): GIBACZPX
Transparent account ONLINE:
Current status of transparent account >>> CLICK HERE <<<
We thank everyone who have helped us
Miloslav Regner, Clerk of the Course Barum Czech Rally Zlín

Days
Hrs
Min
Sec