Articles
Kopecký king of Barum Rally for eighth time!
18. 8. 2019 - Petr Komárek, Roman Ordelt
The Czech driver Jan Kopecký (Škoda Fabia R5 Evo) from the Škoda Motorsport factory team celebrates his fifth consecutive win at the Barum Czech Rally. Overall it's his eighth victory on the Barum Rally, which is a six-round of FIA European Rally Championship (ERC) and Czech Rally Championship. Second place achieved Filip Mareš (Škoda Fabia R5) from ACCR Czech Rally Team, after a very dramatic battle with British Chris Ingram (Škoda Fabia R5) from Toksport WRT. It was nerve-wracking right until the end, and Mareš won by 0.3 seconds and celebrated ERC1 Junior title!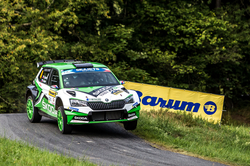 Jan Kopecký and Pavel Dresler were number one at the beginning of Leg 2 of the 49th Barum Czech Rally Zlín. On all stages, he managed to keep a safe gap over his pursuers and even won SS 13 and 15. Alexey Lukyanuk (Citroën C3 R5), the reigning European champion, made it somewhat easy for Kopecký, given his problems. Not even winning a couple of stages helped the native of the Russian capital of Moscow. Another favorite from Russia, Nikolay Gryazin (Škoda Fabia R5), driving with Latvian license, suffered a crash on Pindula.
But the thrilling battle was for the second place. Brit Chris Ingram and Filip Mareš were neck to neck throughout the whole Barum Rally. Towards the end, it seemed that Ingram has the upper hand. However, the difference was only 0.6 seconds before the last stage. Kašava, the longest stage, was supposed to bring the conclusion. It turned out to be a happier end for Filip Mareš. Ingram was too wide in one of the turns, putting him only 0.3 seconds behind Mareš. Mareš and his co-driver Jan Hloušek were 1:31.5 minutes behind Kopecký. Ingram lost on Kopecký 1:31.8 minutes.
The occupation of the fourth to the seventh position remained unchanged. Just below the podium was Tomáš Kostka with Ladislav Kučera (Škoda Fabia R5 Evo), followed by German-Austrian pair Marijan Griebel, Pirmin Winklhofer (Škoda Fabia R5). The sixth-place went to the Austrian Simon Wagner, and Gerald Winter (Škoda Fabia R5 Evo), Jaromír Tarabus and Daniel Trunkát (Škoda Fabia R5) reached the 7th place. Tomáš Pospíšilík and Jiří Hovorka finished eighth, Patrik Rujbr and Jaromír Švec ninth (both Škoda Fabia R5) and Ondřej Bisaha with Petr Těšínský (Hyundai i10 R20) closed the top ten.
Final standings after SS 15:
1. Kopecký, Dresler (CZE, Škoda Fabia R5 Evo) 2:05:17.4 h
2. Mareš, Hloušek (CZE, Škoda Fabia R5) + 1:31.5 min
3. Ingram, Whittock (GBR, Škoda Fabia R5) + 1:31.8 min
4. Kostka, Kučera (CZE, Škoda Fabia R5 Evo) + 1:51.1 min
5. Griebel, Winklhofer (DEU/AUT, Škoda Fabia R5) + 2:49.7 min
6. Wagner, Winter (AUT, Škoda Fabia R5 Evo) + 3:07.9 min
7. Tarabus, Trunkát (CZE, Škoda Fabia R5) + 3:15.4 min
8. Pospíšilík, Hovorka (CZE, Škoda Fabia R5) + 5:38.5 min
9. Rujbr, Švec (CZE, Škoda Fabia R5) + 5:50.0 min
10. Bisaha, Těšínský (CZE, Hyundai i20 R5) + 6:30.7 min
SS victories
Kopecký – 6, Lukyanuk – 5, Gryazin – 3, Ingram – 1

Days
Hrs
Min
Sec