Articles
Kopecký increases lead in Leg 2
18. 8. 2019 - Petr Komárek, Roman Ordelt
The Czech crew Jan Kopecký, Pavel Dresler (Škoda Fabia R5 Evo) from the Škoda Motorsport factory team leads after SS 12 in the 49th Barum Czech Rally Zlín. The second-place hold British Chris Ingram, Ross Whittock (Škoda Fabia R5), losing 1:19.3 on Kopecký. Right behind them is the Czech duo Filip Mareš, Jan Hloušek (Škoda Fabia R5). Seven pilots from the Czech Republic are in the top ten of this prestigious European event.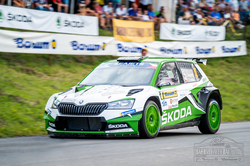 The seven-time Barum Rally champion Kopecký finished second in the first three stages on Sunday. He always did better than his closest pursuers Ingram and Mareš. Brit placed sixth at Maják, third at Pindula and fifth at Kašava. Mareš did similarly - 5th, 7th, and 3rd place. Barum Rally has ended for Lukasz Habaj from Poland (Škoda Fabia R5) which means no points in ERC. He couldn't fix damaged frame from yesterday and retired before SS 10.
Nikolay Gryazin (Škoda Fabia R5), Russian with Latvian license, retired today because of a crash at the legendary Pindula stage, despite scoring three wins. It turned out to be a sad Sunday. Václav Pech (Ford Fiesta R5), who won the Barum Rally back in 2003 and 2014, also retired duo to broke half-axle. The organizers stopped the stage twice. First, because of Gryazin's accident and then Roman Odložilík's Škoda Fabia R5 caught fire.
Alexey Lukyanuk decided to give Barum Rally another shot. Yesterday, in Halenkovice stage, his Citroën C3 R5 suffered a puncture, and after finishing the stage, the left front wheel suspension got broken. He used his superrally card and proved his exceptional driving skills by winning on Pindula and Kašava. But he is still over 11 minutes behind Kopecký.
There are seven Czech crews in the top ten. The fourth is Tomáš Kostka (Škoda Fabia R5 Evo), seventh Jaromír Tarabus (Škoda Fabia R5), eighth Vojtěch Štajf (Volkswagen Polo GTi R5), ninth Tomáš Pospíšilík and tenth Patrik Rujbr (both Škoda Fabia R5). Bad luck hit Martin Březík, who had to change a wheel because of a puncture, lost over 3 minutes and dropped out of top 10.
A very comfortable lead of 11 minutes has Italy's Andrea Nucita (Fiat 124 Abarth RGT) ahead of Juan Carlos Alonso (Mitsubishi Lancer Evo X) from Argentina. Far behind them is Dariusz Polonski (Fiat 124 Abarth RGT) from Poland.
But the fierce battle is in the Junior Championship. Jean-Baptiste Franceschi (Ford Fiesta R2T) won two stages and took the lead in ERC3J. Efrén Llarena (Peugeot 208 R2) now has three stages to close the gap of 4 seconds. Third is Sindre Furuseth (Peugeot 208 R2) from Norway. Czech youngster Erik Cais (Ford Fiesta R2T), the fastest in Kašava, has a shortage just 13.7 seconds on the leading Frenchman. And the podium is only 1.2 seconds away! There is certainly a lot to look for in the last three stages.
Standings after SS 12:
1. Kopecký, Dresler (CZE, Škoda Fabia R5 Evo) 1:36:24.0 h
2. Ingram, Whittock (GBR, Škoda Fabia R5) + 1:19.3 min
3. Mareš, Hloušek (CZE, Škoda Fabia R5) + 1:20.6 min
4. Kostka, Kučera (CZE, Škoda Fabia R5 Evo) + 1:38.0 min
5. Griebel, Winklhofer (DEU/AUT, Škoda Fabia R5) + 2:04.2 min
6. Wagner, Winter (AUT, Škoda Fabia R5 Evo) + 2:29.4 min
7. Tarabus, Trunkát (CZE, Škoda Fabia R5) + 2:37.0 min
8. Štajf, Havelková (CZE, Volkswagen Polo GTi R5 + 3:11.2 min
9. Pospíšilík, Hovorka (CZE, Škoda Fabia R5) + 3:36.9 min
10. Rujbr, J. Švec (CZE, Škoda Fabia R5) + 4:27.3 min
15. Franceschi, Manzo (FRA, Ford Fiesta R2T), 1st ERC3J, ERC3 + 8:42.7 min
19. Nucita, Di Caro (ITA, Fiat 124 Abarth RGT), 1st ERC2 + 9:08.6 min

Days
Hrs
Min
Sec