Articles
Kopecký won Leg 1
18. 8. 2019 - Petr Komárek, Roman Ordelt
Czech crew Jan Kopecký, Pavel Dresler (Škoda Fabia R5 Evo) from the Škoda Motorsport factory team leads after Leg 1 of the 49th Barum Czech Rally Zlin, which is included in the FIA European Rally Championship (ERC) series and Autoclub Czech Rally Championship. Young Brit Chris Ingram is 57.4 seconds behind. The third-place belongs to another home crew of ACCR Czech Rally Team - Filip Mareš, Jan Hloušek (Škoda Fabia R5), which is losing 1:01.2 minutes on the first place.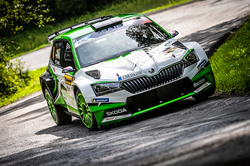 The seven-time winner of the Barum Rally and the reigning Czech champion, Jan Kopecký, kept podium throughout Saturday and he is getting closer to his eighth overall victory in Zlín and Czech title as well. Unlike last year, he avoided punctures, and the worst position was third after SS 3 and 4. He returned to the top in the afternoon stages, winning three stages in Leg 1.
The chances of a 37-year-old native of Opočno to win the eighth victory in Zlín are all the higher, because his greatest rival, Alexey Lukyanuk from Russia, and Alexey Arnautov, retired. His Citroën C3 R5 in the SS 8 suffered a defect of the left front tire. Then the suspension got damaged. The thirty-eight-year-old European Champion has not entered the last stage SS Kostelany.
Suddenly, Chris Ingram and Ross Whittock (Škoda Fabia R5) from Toksport WRT team, were holding second place overall. They were even the fastest ones on the SS 9. Ingram is going head to head with Filip Mareš for the European Junior title in ERC1. Brit is ahead by almost four seconds. Puncture in SS 5 slowed down Nikolay Gryazin and Jaroslav Fedorov (Škoda Fabia R5) from Sports Racing Technologies. Despite winning two stages, they hold the seventh place.
Four of the five elite Barum Rally crews are Czech duos. Mareš and Hloušek are third, Václav Pech and Petr Uhl (Ford Fiesta R5, EuroOil - Invelt Team) are fourth, and Tomáš Kostka, Ladislav Kučera (Škoda Fabia R5 Evo) from Kresta Racing s.r.o. are fifth. Jaromír Tarabus and Daniel Trunkát (Škoda Fabia R5) from Agrorodeo team also made it to the top ten, now holding the eighth position.
In the ERC2 Italians Andrea Nucita, Bernardo Di Caro (Fiat 124 Abarth RGT) lead ahead of Juan Carlos Alonso, Juan Pablo Monasterol (Mitsubishi Lancer Evo X) from Argentina by more than eight and a half minutes. The current leader, Zelindo Melegari, had a serious accident and retired.
In the ERC3 ranking, Efrén Llarena and his co-driver Sara Fernandez (Peugeot 208 R2) won half of Saturday's stages and lead. Despite their victories, almost 8 seconds behind them is Jean-Baptiste Franceschi and Benoît Manzo (Ford Fiesta R2T). Czech driver Erik Cais and co-driver Jindřiška Žáková at the wheel of the Ford Fiesta R2T rank fifth after Leg 1.
The Barum Rally will culminate on Sunday, 18th August. Leg 2 is 253 km long and includes six stages on the Maják, Pindula, and Kašava, measuring 103 km. The best crews will be cheered on the finish ramp in front of the Zlín Town Hall around 5 pm.
Standings after Leg 1 (9 SS, 116 km):
1. Kopecký, Dresler (CZE, Škoda Fabia R5 Evo) 1:07:06.5 h
2. Ingram, Whittock (GBR, Škoda Fabia R5) + 57.4 s
3. Mareš, Hloušek (CZE, Škoda Fabia R5) + 1:01.2 min
4. Pech, Uhel (CZE, Ford Fiesta R5) + 1:03.7 min
5. Kostka, Kučera (CZE, Škoda Fabia R5 Evo) + 1:16.2 min
6. Griebel, Winklhofer (DEU/AUT, Škoda Fabia R5) + 1:33.1 min
7. Gryazin, Fedorov (LAT/RUS, Škoda Fabia R5) + 1:57.4 min
8. Tarabus, Trunkát (CZE, Škoda Fabia R5) + 2:05.8 min
9. Wagner, Winter (AUT, Škoda Fabia R5 Evo) + 2:06.1 min
10. Habaj, Dymurski (POL, Škoda Fabia R5) + 2:13.1 min
22. Nucita, Di Caro (ITA, Fiat 124 Abarth RGT), 1st ERC2 + 5:51.4 min
23. Llarena, Fernandez (ESP, Peugeot 208 R2), 1st ERC3J + 6:21.2 min
SS victories:
4 – Kopecký, 2 – Lukyanuk, Gryazin 1 – Ingram

Days
Hrs
Min
Sec