Articles
Lukyanuk moved ahead, puncture slowed down Gryazin
17. 8. 2019 - Petr Komárek, Roman Ordelt
Russian crew Alexey Lukyanuk, Alexey Arnautov (Citroën C3 R5) leads after the fifth special stage of the 49th Barum Czech Rally Zlín. Excellent performance on SS Halenkovice moved ahead the reigning ERC champions and current ERC leaders. And on SS Kostelany they kept the pace. Very closely behind, by 0.4 seconds, is the Škoda Motorsport team duo Jan Kopecký and Pavel Dresler (Škoda Fabia R5). Nikolay Gryazin and Jaroslav Fedorov (Škoda Fabia R5) dropped out of top ten because of a puncture on SS 5. There is a gap of more than half a minute between Kopecký and third British Chris Ingram (Škoda Fabia R5).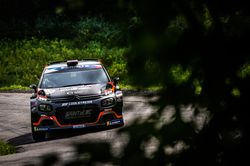 Alexey Lukyanuk from Russia scored a victory on SS Halenkovice, finishing in 7:31.4 minutes. Nikolay Gryazin, competing with Latvian license, was holding the second place, while the defending champion Jan Kopecký was third. Chris Ingram did a great job in this stage, finishing second and moving to fourth place overall. However, SS 4 ended prematurely. Italian Zelinda Melegari (Fiat 124 Abarth RGT), who was leading ERC2, crashed his car, and crews behind him received notional time.
Nothing changed at the top after SS Kostelany. It was an unfortunate stage for Nikolay Gryazin, who suffered a puncture and lost almost two minutes. Kopecký took the chance, moved up, and now he is only 0.4 seconds behind Lukyanuk. Chris Ingram jumped to the third place, and Václav Pech is fourth (Ford Fiesta R5). Barum Rally has already ended for Polish Miko Marczyk (Škoda Fabia R5) who crashed. Five Czech crews are in the top ten of the Barum Rally after five stages. The fifth position belongs to Filip Mareš, the seventh to Tomáš Kostka and the ninth to Jan Černý.
The ERC2 and ERC3 leaders have not changed. There is Andrea Nucita from Italy (Fiat 124 Abarth RGT) and Spanish Efrén Llarena, who also leads the Junior Championship. Second is Sindre Furuseth from Norway (both Peugeot 208 R2), third is Jean-Baptiste Franceschi (Ford Fiesta R2T). Czech driver Erik Cais dropped to fourth place due to problems with brakes, and only three-tenths of a second behind him is the current ERC Junior leader Ken Torn from Estonia (both Ford Fiesta R2T).
Ranking after SS 5:
1. Lukyanuk, Arnautov (RUS, Citroën C3 R5) 37:11.2 min
2. Kopecký, Dresler (CZE, Škoda Fabia R5 Evo) + 0.4 s
3. Ingram, Whittock (GBR, Škoda Fabia R5) + 33.4 s
4. Pech, Uhel (CZE, Ford Fiesta R5) + 35.0 s
5. Mareš, Hloušek (CZE, Škoda Fabia R5) + 38.9 s
6. Herczig, Ferencz (HUN, Volkswagen Polo GTi R5) + 46.4 s
7. Kostka, Kučera (CZE, Škoda Fabia R5 Evo) + 46.9 s
8. Griebel, Winklhofer (GER/AUT, Škoda Fabia R5) + 55.8 s
9. Černý, Černohorský (CZE, Škoda Fabia R5) + 56.0 s
10. Habaj, Dymurski (POL, Škoda Fabia R5) + 1:00.3 min
21. Nucita, Di Caro (ITA, Fiat 124 Abarth RGT), 1st ERC2 + 2:49.4 min
30. Llarena, Fernandez (ESP, Peugeot 208 R2) 1st 2WD, ERC3J + 5:10.5 min

Days
Hrs
Min
Sec