Articles
Gryazin leads, Kopecký third
17. 8. 2019 - Petr Komárek, Roman Ordelt
The Latvian-Russian duo Nikolay Gryazin and Jaroslav Fedorov (Škoda Fabia R5) got to the first place after three stages of the 49th Barum Czech Rally Zlín. The defending champions Jan Kopecký and Pavel Dresler (Škoda Fabia R5 Evo) dropped to third place during the third stage Semetín. The ERC leaders and defending champions Alexey Lukyanuk and Arnautov (Citroën C3 R5) are before them. Gryazin has 3.4 seconds on Lukyanuk. The leading trio has already gained a significant lead over their followers.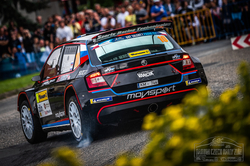 Jan Kopecký, seven-time winner of the Barum Rally, after winning Super SS entered the Saturday part at the first-morning stage Březová at 9:47.8 minutes. But he wasn't the fastest one. Russian Lukyanuk beat him by 0.4 seconds. Thus, Lukyanuk swapped positions with his countryman Gryazin for a while. Kopecký still held first place. He was 3.7 seconds ahead of Lukyanuk. Lukyanuk admitted that he and co-driver Arnautov made a mistake in the second stage. They slipped and almost spun. Czech crew Martin Vlček, Ondřej Krajča (Hyundai i20 R5) experienced a small collision with the dog. But it was nothing serious. The Japanese-Austrian duo Hiroki Arai - Ilka Minor (Citroën C3 R5) had a worse one. They crashed on SS Březová.
After the third stage, the Barum Rally found a new leader. Nikolay Gryazin and Jaroslav Fedorov finished at 6:10.0 minutes, kicking off the first place Jan Kopecký and Pavel Dresler. The Czech pair lost 8.1 seconds to the winner of the SS Semetín and dropped to the third position in both stage and overall ranking. They were losing 3.9 seconds on Gryazin. Alexey Lukyanuk and Alexey Arnautov are keeping a steady pace, and even though they lost 3.4 seconds overall on Gryazin, the gap between them and Kopecký-Dresler was narrow only 0.5 seconds. There is a dramatic battle for the crown in ERC1 Junior Championship. Both British Chris Ingram and Czech driver Filip Mareš are going strong. However, Mareš holds 1.7 seconds lead. Brazilian Paulo Nobre (Skoda Fabia R5) and Belgian Amaury Molle (Peugeot 208 R2) crashed in the third stage.
After three stages, there are five Czech crews in the top ten. Right behind Jan Kopecký is Václav Pech (Ford Fiesta R5), the fifth is Filip Mareš (Škoda Fabia R5), seventh Tomáš Kostka (Škoda Fabia R5 Evo) and ninth Jan Černý (Skoda Fabia R5).
Meanwhile, Italian Andrea Nucita leads ERC2 ahead of Dariusz Polonski (both Fiat 2 Abarth RGT). Another fierce fight is in the ERC3 Junior and FWD category. So far, Spanish driver Efrén Llarena leads, followed by Sindre Furuseth from Norway (both Peugeot 208 R2), the third is Czech Erik Cais (Ford Fiesta R2T). The ERC3 Junior leader Ken Torn from Estonia is fourth, losing 13.8 seconds on Llarena. Less than twenty seconds is better the first seven drivers!
Standings after SS 3:
1. Gryazin, Fedorov (LAT/RUS, Škoda Fabia R5) 23:01.7 min
2. Lukyanuk, Arnautov (RUS, Citroën C3 R5) + 3.4 s
3. Kopecký, Dresler (CZE, Škoda Fabia R5 Evo) + 3.9 s
4. Pech, Uhel (CZE, Ford Fiesta R5) + 22.0 s
5. Mareš, Hloušek (CZE, Škoda Fabia R5) + 26.1 s
6. Ingram, Whittock (GBR, Škoda Fabia R5) + 27.8 s
7. Kostka, Kučera (CZE, Škoda Fabia R5 Evo) + 28.4 s
8. Herczig, Ferencz (HUN, Volkswagen Polo GTi R5) + 29.2 s
9. Černý, Černohorský (CZE, Škoda Fabia R5) + 29.3 s
10. Griebel, Winklhofer (DEU/AUT, Škoda Fabia R5) + 29.8 s
26. Nucita, Di Caro (ITA, Fiat 124 Abarth RGT), 1st place in ERC2 + 1:40.3 min
28. Llarena, Fernandez (ESP, Peugeot 208 R2) 1st 2WD, ERC3J + 2:03.5 min

Days
Hrs
Min
Sec