Articles
Kopecký on the right way to win Barum Rally again
17. 8. 2019 - Roman Ordelt
R5 Evo won the Super SS in the night streets of Zlin, opening the 49th Barum Czech Rally Zlin. It is the sixth part of the FIA ERC and the closing event of Czech Rally Championship 2019 (MČR). Second place, only 3.9 seconds behind, took the Latvian-Russian duo Nikolay Gryazin, Jaroslav Fedorov driving a Škoda Fabia R5. The ERC leader and defending champion Alexey Lukyanuk, Alexey Arnautov from Russia with Citroën C3 R5 was third, losing 4.1 seconds.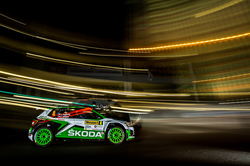 Jan Kopecký, the seven-time winner of the Barum Rally, is on the right way to win again. No one surpassed him in the streets of Zlín. Simon Wagner from Austria and home driver Tomáš Kostka (both Škoda Fabia R5 Evo) finished just below the imaginary podium. A total of six Czech crews reached the top ten. Besides Kopecký and Kostka, they are Václav Pech, Filip Mareš, Vojtěch Štajf, and Roman Odložilík. The last man of top 10 is Lukasz Habaj from Poland, no. 2 in current ERC standings.
In the ERC2 category, Andrea Nucita (Fiat 124 Abarth RGT) from Italy was the fastest. In FWD and ERC3 category, Adam Březík, a talented Czech driver, scored the best time, followed by Sindre Furuseth from Norway and Efrén Llarena from Spain (all Peugeot 208 R2).
Super SS Zlín - Barum (9.51 km)
1. Kopecký, Dresler (CZE, Škoda Fabia R5 Evo) 6:59.7 min
2. Gryazin, Fedorov (LAT/RUS, Škoda Fabia R5) + 3.9 s
3. Lukyanuk, Arnautov (RUS, Ford Fiesta R5) + 4.1 s
4. S. Wagner, Winter (AUT, Škoda Fabia R5 Evo) + 7.2 s
5. Kostka, Kučera (CZE, Škoda Fabia R5 Evo) + 7.7 s
6. Pech, Uhel (CZE, Ford Fiesta R5) + 8.1 s
7. Mareš, Hloušek (CZE, Škoda Fabia R5) + 8.4 s
8. Štajf, Havelková (CZE, VW Polo R5 GTi) + 9.1 s
9. Odložilík, Tureček (CZE, Ford Fiesta R5) + 9.6 s
10. Habaj, Dymurski (POL, Škoda Fabia R5) + 10.4 s
27. Nucita Di Di (ITA, Fiat 124 Abarth RGT), 1st ERC2 + 24.6 s
34. A. Březík, Z. Bělák jr. (CZE, Peugeot 208 R2), 1st 2WD, ERC3 + 43.2 s
35. Furuseth, Hjerpe (NOR, Peugeot 208 R2), 1st ERC3J + 44.2 s

Days
Hrs
Min
Sec