Articles
127 crews picked up road books
14. 8. 2019 - Roman Ordelt
The Barum Czech Rally Zlín Secretariat under the longtime leadership of Marta Regnerová was very crowded during Tuesday afternoon. A total of 127 crews from 23 countries entered this elite competition, which is included in the FIA European Rally Championship (ERC) and the closing event of the Autoclub Czech Rally Championship (MCR). Many leading crews appeared at the Autograph Show on Tuesday evening at the Golden Apple Shopping Center in Zlín. More than a thousand rally sports fans came for signatures and selfies. The list of hot favorites includes the seven-time winner of the Barum Rally and the defending champion Jan Kopecký from the Czech Republic (Škoda Fabia R5 Evo), closely followed by the reigning European champion and the ERC leader Alexey Lukyanuk from Russia (Citroën C3 R5).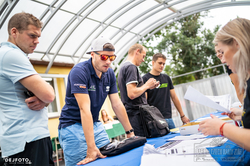 A total of ten crews excused themselves. All the top favorites came Zlín, however, the Kuwaiti-Qatar crew Mshari Althefiri and Nasser Al-Kuwari (Mitsubishi Lancer EVO X) in the ERC2 category will be missed. "It took us a lot of work to get their flags. Eventually, this pair excused themselves. We hope that they will come to Zlín next year," said Marta Regnerová. The first ones to present was the Czech-German duo Jiří Kašpar and Thomas Windisch on Škoda 130 LR, also taking part in Organizer Cup. "We were most occupied after 4 pm, after the end of the official testing. It was interesting that we waited more than half an hour for the first crew," said Regnerová. By Tuesday evening 122 crews have picked up the itinerary. The last five arrived during Wednesday morning, thus making the final number of competing teams 127. Rally fans will be pleased by the fact that Friday's start will feature a high number of 34 R5 cars.
On Wednesday morning the crews started reconnaissance on special stages. The first ones on the list were Sunday's stages (SS Maják, Pindula, Kašava and Qualifying Stage - shakedown Komárov). On Thursday, crews can test stages of Leg 1 (Březová, Semetín, Halenkovice, Kostelany) and at midnight Super SS in the closed center of Zlín. The 49th Barum Czech Rally Zlín starts on Friday 16th August at 4 pm on the square in front of the Town Hall in Zlín, where it also ends on a finishing ramp on Sunday 18th August before five o'clock. This year's Barum Rally takes a total of 755,52 km and includes 15 special stages on eight sections with a total length of 219.63 km. The prelude to the rally itself will be the Friday's Qualification Stage, respectively shakedown, of 4.40 km in section Pohořelice - Komárov.
Several changes occurred in the List of Entries, both on the position of a co-driver and a driver. No. 63, there is a change of a pilot, instead of Tomáš Růžička, Vladimír Hanuš from Slovakia will sit behind the wheel of the Hyundai i20 R5. Frenchman Jean-Baptiste Franceschi changed his co-driver, Benoit Manzo replaced Jacques-Julien Renucci.
Within the Czech Championship, next to Adam Fabrika will be Jindřich Horáček instead of Martin Fabián. Miroslav Čabaj will navigate Patrik Janeček, Karel Voltner accompanies Filip Ocelka, Martin Minařík's new co-driver is Zuzana Plšková, Jakub Navrátil will sit next to Michal Ciller and Lukáš Sedláček will race with Martin Čagánek.
The following crews excused themselves:
33 Mshari Althefiri, Nasser Al-Kuwari (KWT/QAT, Mitsubishi Lancer EVO X, Mshari Althefiri)
34 Mátyás Nagy, Tamás Nagy (HUN, Mitsubishi Lancer EVO X, Horváth Rally ASE)
39 Pedro Antunes, Paulo Lopes (PRT, Peugeot 208 R2, FPAK Portugal Team ERC)
50 Grigor Grigorov, Janaki Janakijev (BGR, Peugeot 208 R2, Grigor Grigorov)
57 Catie Munnings, Veronica Engan (GBR/NOR, Peugeot 208 R2, Peugeot Rally Academy)
66 Mattia Vita, Massimiliano Bosi (ITA, Peugeot 208 R2, Mattia Vita)
121 Michal Kravec, Petra Reitmajerová (CZE, Renault Clio R3, Automotoklub Pačejov v AČR)
123 David Suchařípa, Martina Picková (CZE, Mitsubishi Lancer EVO IX, JT Rally Team)
125 Aleš Pilčík, Zuzana Plšková (CZE, Honda CIvic VTi, Aleš Pilčík)
130 Pavel Šivic, Jaroslav Blažek (CZE, Škoda Fabia, Pavel Šivic)

Days
Hrs
Min
Sec