Articles
Kopecký and Lukyanuk are top favorites
5. 8. 2019 - Roman Ordelt
The 49th Barum Czech Rally Zlín will offer an outstanding starting field. The competition secretariat received 137 entries from 25 countries; 84 crews will be in the FIA European Rally Championship (ERC). That ranks Zlín rally again among the best-listed contests in Europe. This year, teams from countries quite far away like Kuwait, Qatar, Japan, Brazil, Argentina, and the United States of America are coming to Zlín. The high number of 34 R5 cars promises an excellent show for rally sports fans along the track during the third weekend of August.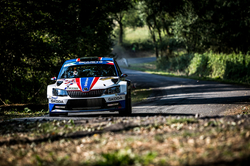 The main question of this year is: Will Jan Kopecký win the Barum Rally for the eighth time or will he be finally over throned? The 37-year-old rider from Kostelec nad Orlicí is undoubtedly again the biggest favorite. The Škoda Motorsport factory driver is arriving in Zlín with a Škoda Fabia R5 Evo as the seven-time winner of the Zlín Rally, the six-time Czech champion and the reigning World Champion in the WRC2 category. The top three drivers of the European Championship are leading the list of entries. Starting number 1 holds the current ERC leader and last year's European champion Aleksey Lukyanuk from Russia (Citroën C3 R5). Lukasz Habaj from Poland, Chris Ingram from Great Britain (both Škoda Fabia R5) and Norbert Herczig from Hungary (VW Polo GTi R5) are quite strong this year. The Czech youngster, Filip Mareš on Fabia R5, does not want to stay behind since he achieved high results in Poland and Italy. He also has a chance to win ERC1 Junior category, Barum Rally being the last event of this category. The dark horse of the race is Nikolay Gryazin on Škoda Fabia R5, holds a Latvian license, and also Simon Wagner from Austria. German Marijan Griebel (Škoda Fabia R5 Evo), Polish vice-champion Mikolaj Marczyk (Škoda Fabia R5), Swedish Mattias Adielsson (Ford Fiesta R5) and Japanese Hiroki Arai (Citroën C3 R5) do want to make it to the top ten.
In addition to Kopecký and Mareš, another ambitious Czech drivers are Václav Pech (Ford Fiesta R5), Tomáš Kostka (Škoda Fabia R5 Evo), Jan Černý, Miroslav Jakeš, Jaromír Tarabus (all Škoda Fabia R5) and Vojtěch Štajf (Volkswagen Polo GTi R5). But there more Czech drivers that can make life difficult for the favorites like Roman Odložilík, Antonín Tlusťák, Patrik Rujbr, Martin Březík, Tomáš Pospíšilík, Karel Trojan, Jan Jelínek (all Škoda Fabia R5), Martin Vlček, and Ondřej Bisaha (both Hyundai i20 R5). The Barum Rally will shape the final ranking of the domestic championship since it is the last event of the Autoclub of the Czech Republic Championship and Příbram rally was canceled.
The leader of ERC2 category Italian driver Zelindo Melegari is also coming to Zlín. He is followed by his compatriot Andrea Nucita, and Polish Dariusz Polonski (all Fiat 124 Abarth RGT). It is going to be a first time in Zlín for Juan Carlos Alonso from Argentina and Mshari Althefiri from Kuwait (both Mitsubishi Lancer EVO X).
The ERC3, including the junior category, will be concluded in Zlín. The four best results count out of the six ERC3 events (the Azores, Canaries, Latvia, Poland, Rome, and Barum). The winner of this championship will receive two starts with R5 car in the upcoming season of ERC. In the FWD category, the front-runner and winner of last three ERC3 rallies are Ken Torn from Estonia (Ford Fiesta R3T). Other top contestants are Efrén Llarena from Spain and Sindre Furuseth from Norway (both Peugeot 208 R2). And the list of fast drivers goes on. Likes of French Florian Bernardi (Renault Clio R3T), Jean-Baptiste Franceschi (Ford Fiesta R2T) and Yohan Rossel (Peugeot 208 R2) put Barum Rally in their schedule.
However, the following Czech drivers do not want to be overlooked like Erik Cais (Ford Fiesta R2), Petr Semerád (Opel Adam R2), Jan Talaš, René Dohnal, Adam Březík, Jiří Navrátil (all Peugeot 208 R2), Tomáš Knápek (Opel Adam R2), Matěj Kamenec (Ford Fiesta R2T) and others.
Among other events happening during the Barum Rally, there are the XII. Star Rally Historic with 86 crews and the Bugatti Grand Prix. It is a part of the four-event Grand Prix historic for vintage cars and 38 crews signed for this race. The organizers report a total of 261 entries! A lot of things will be happening in Zlín from 16th to 18th August. Let's enjoy a wonderful atmosphere of Barum Czech Rally Zlín in the middle of August!

Days
Hrs
Min
Sec