Articles
Jan Kopecký rules Barum rally
27. 8. 2018 - Petr Říha, Roman Ordelt
The Czech duo Jan Kopecký and his co-pilot Pavel Dresler on Škoda Fabia R5 won Barum rally. It is their fourth consecutive victory and seventh overall. The second one was Alexey Lukyanuk and Alexey Arnautov from Russia on Ford Fiesta R5 and the gap between them was 7.5 seconds. The third place took the Spanish crew Daniel Sordo and Carlos Del Barrio (Hyundai i20 R5) who were 53.6 seconds behind. The 48th Barum Czech Rally Zlín was the sixth event of FIA European Rally Championship and also of Autoklub Czech Rally Championship 2018 (MCR).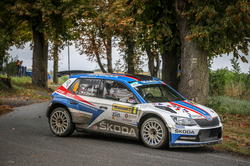 Jan Kopecký had three punctures on Saturday and spent all Sunday trying to close that gap. Doing so, he won three out of six special stages. It was his 23rd victory in a row on home soil. "We did what we could. For second section we chose tyres for dry surface and worked out. We're very happy and we thank our fans for their support," said the 36-year-old driver.
His biggest rival was Alexey Lukyanuk who unlike basically all the top crews had no puncture. But his strategy was about not taking unnecessary risks and it was enough on Saturday but when Kopecký started to push hard, he chose to keep the already set rhythm and gain points to increase his lead in ERC champions. "We chose bad tyres for the last sections, we couldn't do more. I apologise to all the fans." Lukyanuk came second also the previous year.
A very nerve-wrecking was the fight for the podium, which in the end got the Spanish world star Daniel Sordo, a Hyundai factory driver. The world-series driver beat Miroslav Jakeš (Škoda Fabia R5) by mere 0.3 seconds. "It was a nice and demanding rally in great atmosphere. To be honest it wasn't about the result. I didn't know what to expect," said the 35-year-old driver after his premiere on Barum rally.
Martinš Sesks from Latvia (Opel Adam R2) and the ERC3/U27 leader won the 2WD category. The ERC2 category had only one driver and that was Tibor Érdi jr. from Hungary on Mitsubishi Lancer EVOX. The RGT category was in the end won by Raphaël Astier from France (Fiat 124 Abarth), who took over Simone Tempestini from Romania.
Final Standings after SS 15:
1. Kopecký, Dresler (CZE, Škoda Fabia R5) 2:07:47.2 hour
2. Lukyanuk, Arnautov (RUS, Ford Fiesta R5) + 7.5 s
3. Sordo, Del Barrio (ESP, Hyundai i20 R5) + 53.6 s
4. Jakeš, Machů (CZE, Škoda Fabia R5) + 53.9 s
5. Gryazin, Fedorov (LVA/RUS, Škoda Fabia R5) + 1:13.2 min
6. Kreim, Christian (DEU, Škoda Fabia R5) + 1:58.2 min
7. Ingram, Whittock (GBR, Škoda Fabia R5) + 2:07.8 min
8. Tarabus, Trunkát (CZE, Škoda Fabia R5) + 2:14.0 min
9. B. Magalhaes, H. Magalhaes (PRT, Škoda Fabia R5) + 5:25.8 min
10. Pellier, Combe (FRA, Peugeot 208 T16 R5) + 7:03.1 min
19. Astier, Vauclare (FRA, Fiat 124 Abarth), 1st place RGT + 13:20.8 min
20. Sesks, Francis (LVA, Opel Adam R2), 1st place ERC3/U27, 2WD + 13:38.6 min
23. Érdi jr., Papp (HUN, Mitsubishi Lancer EVO X), 1st place ERC2 + 15:36.9 min
RGT Standings:
1. Astier, Vauclare (FRA, Fiat 124 Abarth) 2:20:58,0 hour
2. Tempestini, Itu (ROU, Fiat 124 Abarth) + 51.5 s
3. Nešetřil, Černoch (CZE, Porsche 997 GT3) + 14:27.5 min
ERC2 Standings:
1. Érdi jr., Papp (HUN, Mitsubishi Lancer EVO X) 2:23,24.1 hour
ERC3 Standings:
1. Sesks, Francis (LVA, Opel Adam R2) 2:21:25.8 hour
2. S. Wagner, Winter (AUT, Peugeot 208 R2) + 17.3 s
3. Kristensson, Appelskog (SWE, Opel Adam R2) + 2:57.2 min
Special Stage victories:
8 – Kopecký, 2 – Jakeš, Lukyanuk, 1 – Gryazin, Kreim, Mareš.

Days
Hrs
Min
Sec