Articles
Kopecký won Barum rally, again
26. 8. 2018 - Petr Říha
The Czech duo Jan Kopecký and Pavel Dresler (Škoda Fabia R5) won for the fourth consecutive time, seventh overall, Barum Czech Rally Zlín, the sixth event of FIA European Rally Championship (ERC) and also of Autoklub Czech Rally Championship 2018 (MCR). Alexey Lukyanuk (Ford Fiesta R5) took the second place, same as last year, when he was slowly losing his lead from Saturday and in the end was 7.5 seconds behind Kopecký. After very dramatic last stage Daniel Sordo (Hyundai i20 R5) kept the podium and on his premiere in Zlín he lost almost one minute on Kopecký.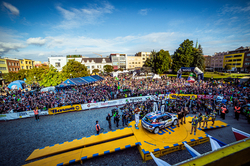 Kopecký went to the Leg 2 on the second place but he was steadily closing the gap on Lukyanuk. He finally got on top on special stage 13 and did not let go. Lukyanuk was careful and knew that second place is enough to increase his lead in the ERC.
First, it seemed that Nikolay Gryazin and Dani Sordo would go head-to-head for the podium but throughout the day Miroslav Jakeš had his say in this. Gryazin was no longer pushing so Sordo get ahead of him. Jakeš had a very good day and on the last stage he was unlucky to finish only 0.3 seconds behind Sordo.
But the unluckiest guy was Filip Mareš (Škoda Fabia R5). For a very long time he was doing very well and winning for the first time in his career an ERC stage but on the last stage he had an accident and retired. The other Czech driver in the top ten was Jaromír Tarabus (Škoda Fabia R5), who finished eight.
Final standings after SS 15:
1. Kopecký, Dresler (CZE, Škoda Fabia R5) 2:07:47.2 hour
2. Lukyanuk, Arnautov (RUS, Ford Fiesta R5) + 7.5 s
3. Sordo, Del Barrio (ESP, Hyundai i20 R5) + 53.6 s
4. Jakeš, Machů (CZE, Škoda Fabia R5) + 53.9 s
5. Gryazin, Fedorov (LVA/RUS, Škoda Fabia R5) + 1:13.2 min
6. Kreim, Christian (DEU, Škoda Fabia R5) + 1:58.2 min
7. Ingram, Whittock (GBR, Škoda Fabia R5) + 2:07.8 min
8. Tarabus, Trunkát (CZE, Škoda Fabia R5) + 2:14.0 min
9. B. Magalhaes, H. Magalhaes (PRT, Ford Fiesta R5) + 5:25.8 min
10. Pellier, Combe (FRA, Peugeot 208 T16 R5) + 7:03.1 min
16. Astier, Vauclare (FRA, Fiat 124 Abarth), 1st place RGT + 13:20.8 min
17. Sesks, Francis (LVA, Opel Adam R2), 1st place ERC3/U27, 2WD + 13:38.6 min
20. Érdi jr., Papp (HUN, Mitsubishi Lancer EVO X), 1st place ERC2 + 15:36.9 min

Days
Hrs
Min
Sec