Articles
Amazing Kopecký closing gap on Lukyanuk
26. 8. 2018 - Petr Říha
The Russian crew Alexey Lukyanuk and Alexey Arnautov (Ford Fiesta R5) is still in the lead of the 48th Barum Czech Rally. But their lead has significantly shortened because Jan Kopecký and Pavel Dresler (Škoda Fabia R5) are pushing a lot. The six-time winner of Barum rally has already reduced the gap by 14 seconds and before the final three stages he is only 2.6 seconds behind. Third is Nikolay Gryazin-Jaroslav Fedorov on Škoda Fabia R5.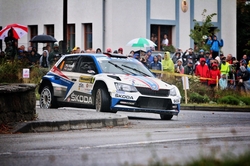 Lukyanuk has almost lost all of his 17 seconds lead through the first three sections. Kopecký has gathered all the speed and strength he could to after three punctures. On SS 12 he cut 6 seconds from Lukyanuk's lead.
Interesting is also the fight for the podium. Two Czech talents Miroslav Jakeš (Škoda Fabia R5) and Filip Mareš (Škoda Fabia R5) scraped victories on SS 13, 14 respectively. It was Mareš first ever stage victory in an ERC competition.
Jakeš is now fifth and Mareš is right behind followed by Jaromír Tarabus (Škoda Fabia R5) who moved up one place.
The young Czech talent Erik Cais (Peugeot 208 R2) took the lead in 2WD. The youngster is beating event the current leader of ERC3/U27 Martinš Sesks from Latvia (Opel Adam R2). The RGT category promises dramatic moments since Raphaël Astier (Fiat 124 Abarth) from France got ahead Simone Tempestini by 2.6 seconds.
The last three stages of Barum rally are Halenkovice, Maják and Kašava, which is almost 25 kilometres long. The winner of the three-day long rally will appear on the náměstí Míru Square at 4:49 p.m.
The 48th Barum Czech Rally Zlín is the sixth event of FIA European Rally Championship (ERC) and Czech National Rally Championship 2018 (MCR).
Standings after SS 12:
1. Lukyanuk, Arnautov (RUS, Ford Fiesta R5 1:39:12.1 hod
2. Kopecký, Dresler (CZE, Škoda Fabia R5) + 2.6 s
3. Gryazin, Fedorov (LVA/RUS, Škoda Fabia R5) + 37.7 s
4. Sordo, Del Barrio (ESP, Hyundai i20 R5) + 40.9 s
5. Jakeš, Machů (CZE, Škoda Fabia R5) + 54.0 s
6. Mareš, Hloušek (CZE, Škoda Fabia R5) + 1:24.2 min
7. Tarabus, Trunkát (CZE, Škoda Fabia R5) + 1:49.1 min
8. Kreim, Christian (DEU, Škoda Fabia R5) + 1:51.6 min
9. Ingram, Whittock (GBR, Škoda Fabia R5) + 2:05.1 min
10. B. Magalhaes, H. Magalhaes (PRT, Ford Fiesta R5) + 3:39.0 min
18. Cais, Krajča (CZE, Peugeot 208 R2), 1st 2WD + 10:22.9 min
19. Sesks, Francis (LVA, Opel Adam R2), 1st ERC3/U27 + 10:43.2 min
20. Astier, Vauclare (FRA, Fiat 124 Abarth), 1st RGT + 11:03.9 min
23. Érdi jr., Papp (HUN, Mitsubishi Lancer EVO X), 1st ERC2 + 12:17.6 min

Days
Hrs
Min
Sec