Articles
Lukyanuk won Leg 1
26. 8. 2018 - Petr Říha, Roman Ordelt
The Russian duo Alexey Lukyanuk and Alexey Arnautov (Ford Fiesta R5) is in the lead after Leg 1 of the 48th Barum Czech Rally Zlín. Jan Kopecký and his co-pilot Pavel Dresler from Škoda Motorsport team are losing almost 17 seconds. The third place holds Nikolay Gryazin and Jaroslav Fedorov (Škoda Fabia R5).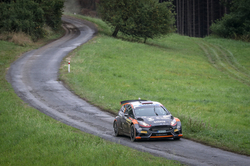 Kopecký, the six-time winner of Barum rally, had a really bad day today. Even winning more than half of stages was not enough to hold the first place. Three punctures within one day. Even Kopecký's dominance can be shaken. "Those were are our mistakes. We'll see about the weather for tomorrow. I think Alexey Lukyanuk won't let go. We'd like to thank our fans for their support," said Jan Kopecký.
Alexey Lukyanuk has been for the past couple years a front-runner of Barum Czech Rally Zlín. And he always delivers. Unlike his rivals, he managed to avoid major complications and holds great position for Leg 2. "It was a very difficult day, but I'm happy. We made a decision to be careful and that paid off. I don't want to lose more than 10 seconds on Sunday," said Lukyanuk, who leads ERC classification.
The young Russian driver Nikolay Gryazin proved his talent by winning the Qualifying Stage and then throughout Saturday he kept Sordo at a safe distance. "It was a big day for us. We did a great job and have a very good position," summarized the 20-year-old driver.
Dani Sordo (Hyundai i20 R5) is fourth in his premiere on Barum Czech Rally Zlín. Sordo had a puncture and he is 17 seconds behind Gryazin. "Weather made this rally even more difficult but we found the way to enjoy it even though sometimes things don't go as planned," said the 35-year-old driver.
Four Czech drivers are in the top ten. Filip Mareš is fifth, Miroslav Jakeš is right behind him and Jaromír Tarabus is eighth (all Škoda Fabia R5).
Many ambitious drivers had to retire due to the difficult conditions. Both Václav Pech (Ford Fiesta R5) and Roman Odložilík (Ford Fiesta R5) had technical issues.
Norbert Herczig, the third man of ERC, is off the race and so is Rhys Yates from the Great Britain (both on Škoda Fabia R5).
There is an interesting confrontation in the 2WD category between ERC Junior champion Martinš Sesks from Latvia (Opel Adam R2) and the young Czech driver Erik Cais (Peugeot 208 R2). So far the Latvian driver has 3.7 seconds lead. There is only one participant in ERC2 category and that is Tibor Érdi jr. from Hungary on Mitsubishi Lancer EVO X.
There are six stages on Sunday - SS Halenkovice, Maják and Kašava of total length 93 kilometres. The winner will be know after 3 p.m. and appear on the náměstí Míru Square on Sunday 26th August at 4:49 p.m.
The 48th Barum Czech Rally Zlín is the sixth event of FIA European Rally Championship (ERC) and Czech National Rally Championship 2018 (MCR).
Standings after Leg 1 (SS 9):
1. Lukyanuk, Arnautov (RUS, Ford Fiesta R5) 1:10:18.7 hod
2. Kopecký, Dresler (CZE, Škoda Fabia R5) + 16.8 s
3. Gryazin, Fedorov (LVA/RUS, Škoda Fabia R5) + 33.2 s
4. Sordo, Del Barrio (ESP, Hyundai i20 R5) + 50.5 s
5. Jakeš, Machů (CZE, Škoda Fabia R5) + 1:01.0 min
6. Mareš, Hloušek (CZE, Škoda Fabia R5) + 1:33.6 min
7. Kreim, Christian (DEU, Škoda Fabia R5) + 1:44.9 min
8. Tarabus, Trunkát (CZE, Škoda Fabia R5) + 1:55.2 min
9. Ingram, Whittock (GBR, Škoda Fabia R5) + 2:02.4 min
10. B. Magalhaes, H. Magalhaes (PRT, Ford Fiesta R5) + 2:50.7 min
19. Tempestini, Itu (ROU, Fiat 124 Abarth), 1st place RGT + 7:19.2 min
25. Sesks, Francis (LVA, Opel Adam R2), 1st place 2WD, ERC3 + 7:45.3 min
31. Érdi jr., Papp (HUN, Mitsubishi Lancer EVO X), 1st place ERC2 + 8:59.9 min
Special Stage victories:
5 – Kopecký, 2 – Lukyanuk, 1 – Gryazin, Kreim

Days
Hrs
Min
Sec