Articles
Lukyanuk holds first position and another puncture for Kopecký
25. 8. 2018 - Petr Říha
The Russian duo Alexey Lukyanuk and Alexey Arnautov (Ford Fiesta R5) is in the lead after four stages of the 48.h Barum Czech Rally. Jan Kopecký and Pavel Dresler (Škoda Fabia R5) are twenty seconds behind after suffering two punctures. And young Nikolay Gryazin-Jaroslav Fedorov (Škoda Fabia R5) is only 0.3 s behind Kopecký.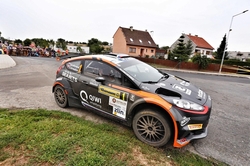 The six-time winner of Barum rally and the reigning Czech championship was closing on Lukyanuk until he got another flat tyre on the sixth stage. Lukyanuk is keeping a steady pace.
Martin Vlček fell of the top ten when he got off the road on the fifth stage. Norbert Herczig from Hungary (Škoda Fabia R5) lost chance to collect any points for ERC after his accident.
Dani Sordo (Hyundai i20 R5) is still getting to know local roads but the conditions this year are making it very difficult for him. He is fourth losing more than half a minute on Lukyanuk.
Apart from Kopecký, there are three Czech drivers among the fastest ten crews. Miroslav Jakeš is fifth, Filip Mareš is now more than one minute behind him and Jaromír Tarabus is eighth (all Škoda Fabia R5).
Last stage on Saturday is SS Kudlovice, which is more than 21 kilometres long. On Sunday, Leg 2, there are six special stages. The winner of the three-day long rally will appear on the náměstí Míru Square on Sunday 26th August at 4:49
The 48th Barum Czech Rally Zlín is the sixth event of FIA European Rally Championship (ERC) and Czech National Rally Championship 2018 (MCR).
Standings after SS 8:
1. Lukyanuk, Arnautov (RUS, Ford Fiesta R5) 58:57.2 min
2. Kopecký, Dresler (CZE, Škoda Fabia R5) + 20.0 s
3. Gryazin, Fedorov (LVA/RUS, Škoda Fabia R5) + 20.3 s
4. Sordo, Del Barrio (ESP, Hyundai i20 R5) + 33.7 s
5. Jakeš, Machů (CZE, Škoda Fabia R5) + 49.3 s
6. Mareš, Hloušek (CZE, Škoda Fabia R5) + 1:05.1 min
7. Kreim, Christian (DEU, Škoda Fabia R5) + 1:28.0 min
8. Tarabus, Trunkát (CZE, Škoda Fabia R5) + 1:33.5 min
9. Ingram, Whittock (GBR, Škoda Fabia R5) + 1:48.9 min
10. B. Magalhaes, H. Magalhaes (PRT, Ford Fiesta R5) + 2:18.6 min
20. Tempestini, Itu (ROU, Fiat 124 Abarth), 1st place RGT + 5:49.5 min
22. Cais, Krajča (CZE, Peugeot 208 R2), 1st place 2WD + 6:06.2 min

Days
Hrs
Min
Sec