Articles
SS5: Kopecký moved up
25. 8. 2018 - Roman Ordelt
The crews of the 48th Barum Czech Rally Zlín had one more special stage to conquer, namely SS Kudlovice, before reaching Service Park. Jan Kopecký and Pavel Dresler (Škoda Fabia R5) from the Škoda Motorsport team pushed really hard on the 21.43 long section and won the stage by more than 13 seconds.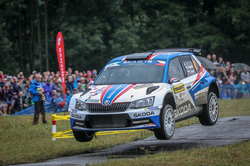 Daniel Sordo (Hyundai i20 R5) of the Hyundai Motorsport team also gained speed and finished second, reducing his loss on Nikolay Gryazin on 8.8 seconds. Alexey Lukyanuk (Ford Fiesta R5) still holds the first position with 7.4 s lead.
Norbert Herczig, the third man of ERC, is off the race when he shoved his car into the forest, luckily, the crew is unharmed. The Czech driver Miroslav Jakeš (Škoda Fabia R5) is having a great day. He moved up to the fifth place and behind him is Filip Mareš. The seventh Jaromír Tarabus is slowly speeding up.
The category RGT is lead by Simone Tempestini from Romania (Fiat 124 Abarth) and Martinš Sesks from Latvia (Opel AdamR2) remains in the lead of 2WD and ERC3/U27 category.
Standings after SS 5:
1. Lukyanuk, Arnautov (RUS, Ford Fiesta R5) 38:38.8 min
2. Kopecký, Dresler (CZE, Škoda Fabia R5) + 7.4 s
3. Gryazin, Fedorov (LVA/RUS, Škoda Fabia R5) + 14.6 s
4. Sordo, Del Barrio (ESP, Hyundai i20 R5) + 23.4 s
5. Jakeš, Machů (CZE, Škoda Fabia R5) + 47.0 s
6. Mareš, Hloušek (CZE, Škoda Fabia R5) + 55.2 s
7. Tarabus, Trunkát (CZE, Škoda Fabia R5) + 1:07.9 min
8. Ingram, Whittock (GBR, Škoda Fabia R5) + 1:17.3 min
9. Kreim, Christian (DEU, Škoda Fabia R5) + 1:19.1 min
10. B. Magalhaes, H. Magalhaes (PRT, Ford Fiesta R5) + 1:43.7 min
21. Tempestini, Itu (ROU, Fiat 124 Abarth), 1st place RGT + 4:14.1 min
24. Sesks, Francis (LVA, Opel AdamR2), 1st place 2WD + 4:21.7 min

Days
Hrs
Min
Sec