Articles
Entrylist publishing today at 6 p.m. - almost 200 rally cars at the upcoming Barum rally!
18. 8. 2014 - Roman Ordelt, press relations officer BCRZ
The 44th Barum Czech Rally Zlín is loudly knocking on the door. The organizers of the Czech FIA ERC round, which belongs to the Int. Czech Rally Championship as well, will publish today the complete entry list.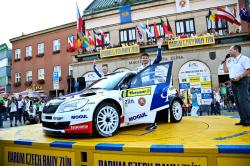 And it's not only numerous, but also high-quality. Before closing of entries, organizers had received entry forms from 121 crews. If it's count together with 66 competitors in Star Rally Historic, there will appear almost two hundreds rally cars at the Barum rally route!
No other ERC event had so extensive and quality starting field. The BCRZ list of entries contains 24 S2000 or R5 cars. Only the Belgian ERC round matches the Zlín-based event as there appeared 23 top cars in Ypres. 45 competitors will come to the Barum rally from abroad - from 25 countries containing many European countries as well as the USA or Japan.
The complete list of entries will be revealed today at 6 p.m. at the official website CzechRally.com. The rally fans can look forward to it, the upcoming edition of the Barum Czech Rally Zlín will be a great spectacle!

Days
Hrs
Min
Sec