Articles
Neumann on Ford Escort dominates Star Rally
17. 8. 2019 - Jakub Kudláč
The 12th Star Rally Historic, which is part of the Autoclub of the Czech Republic Historic Championship, is led by Vlastimil Neumann and co-driver Martin Hlavatý after the third special stage. The second place goes to Libor Kotrmon, Jan Krečman (Ford Escort RS Cosworth). Petr Hustý and Martin Černý are fighting for the third position.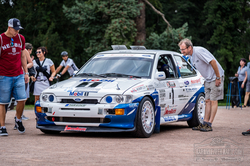 Defending champion Neumann with Ford Escort RS Cosworth won Friday night's SSS, having 6.8 seconds on Slovak Jozef Béreš. He beat him by 14.5 seconds also on SS Březová. Béreš, however, did not make it to the third stage. Neumann, despite finishing third in SS Semetín, he still holds a comfortable lead of 57.5 seconds ahead of second Kotrmon.
Even Kotrmon can feel safe in second place. But there is a fierce battle for the podium. Both Petr Hustý on Mercedes-Benz 190E and Martin Černý on Lada VFTS have reached the same time! Černý got into the fight for the bronze medal thanks to the fine performance on SS Semetín, which he won ahead of Hustý by more than ten seconds. Four special stages are waiting for the competition crews: SS Halenkovice, Kostelany and second run through Březová and Semetín. The finish is on Saturday evening in front of the Zlín Town Hall.
Standings after SS 3:
1. Neumann, Hlavatý (CZE, Ford Escort RS Cosworth) 26:46.3 min
2. Kotrmon, Krečman (CZE, Ford Escort RS Cosworth) + 57.5 s
3. Hustý, Kouřil (CZE, Mercedes-Benz 190 E) + 1:17.9 min
Černý, Mandílková (CZE, Lada VFTS) + 1:17.9 min
5. Němec, Němcová (CZE, Lada 21001 MTX Rallye) + 1:48.0 min
6. Vyorálek, Olejník (CZE, Lada VFTS) + 1:54.5 min
7. Hýbner, Jonásek (CZE, Peugeot 205 GTI) + 2:07.3 min
8. Szot, Dyemba (POL, Honda Civic VTI) + 2:19.8 min
9. Michálek, Maryška (CZE, Suzuki Swift GTI) + 2:20.5 min
10. A. Jirátko sen., A. Jirátko jun. (CZE, BMW 2002 TI) + 2:21.1 min

Days
Hrs
Min
Sec