Articles
Tomáš Enge leads Star Rally Historic
25. 8. 2018 - Petr Říha
The Czech duo Tomáš Enge - Lucie Engová on Škoda 130 LR is leading Star Rally Historic after four stages. Star Rally Historic is another event in the historic championship series of Autoklub Czech Rally Championship. Enge has eleven seconds lead on Vlastimil Neumann, who is driving Ford Escort RS Cosworth. Third place holds Jan Krejča (Škoda 130 LR) with more than half a minute loss.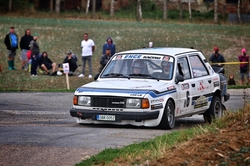 Tomáš Enge has already won the city special stage on Friday. On Saturday morning Vlastimil Neumann got in front of him but Enge got back first place on the third special stage and kept it.
Star Rally Historic began in 2008 as a sort of an entertaining show but soon it gained so many fans that it became a rally of its own. And two years ago it was integrated into the Czech historic rally championship. Some vehicles are only participating in the demonstration drive, which is just a pleasure for any lover of historic cars. The XI. Star Rally Historic made major changes this year. There are eight special stages and the total length is longest ever. Almost one hundred kilometres.
The rally's final stages Kudlovice, Březová, Semetín and Rajnochovice are scheduled after Service Park. After the last stage the crews are heading to Zlín for the ceremony at 9 p.m.
Standings of the XI. Star Rally Historic after SS4:
1. Enge, Engová (CZE, Škoda 130 LR) 32:33.2 min
2. Neumann, Slezák (CZE, Ford Escort RS Cosworth) + 11.3 s
3. Krejča, Hejhal (CZE, Škoda 130 LR) + 31.8 s
4. Petr Jurečka, Pavel Jurečka (CZE, Subaru Impreza 555) + 56.8 s
5. Štolfa, Hawel (CZE, Rover Metro Gti) + 1:11.8 min
6. Michálek, Maryška (CZE, Suzuki Swift GTi) + 1:13.0 min
7. Budil, Vejvoda (CZE, BMW 2002) + 1:31.2 min
8. Kotrmon, Krečman (CZE, Ford Escort RS Cosworth) + 1:39.3 min
9. Berger, Kolivošková (CZE, Škoda 130 LR) + 1:41.6 min
10. Hýbner, Jonášek (CZE, Peugeot 205 GTi) + 1:44.7 min

Days
Hrs
Min
Sec