Articles
Krejča leads Star Rally Historic
26. 8. 2017 - Petr Říha
The Czech crew Jan Krejča – Pavel Šárka with their car Škoda 130 LR leads X. Star Rally Historic after four special stages. Star Rally Historic is part of Czech Historic Car Rally Championship. Krejča has 8 seconds lead on Stanislav Budila who's driving BMW 2002 Ti, the third place holds Martin Černý (Lada VFTS).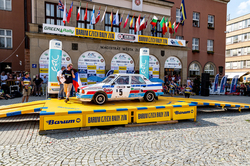 Star Rally Historic was held for the first time in 2008 during Barum Czech Rally Zlín to spice up the event but it grew larger over the years and became a true rally for cars who helped to shape the sport in the second half of the 20th century. This year it is part of Czech Historic Car Rally Championship after last year's successful demonstration ride. The starting field is full of legends and time is of no importance since this rally pays homage to the lovely historic vehicles. The rally is 90 kilometres long.
After a short stop in the service zone, the big finale is scheduled for SS Březová and the last loop in Vsetín. SS Semetín and Troják will be at dusk so the fans and the crews can enjoy rally lit by the lamps along the track.
X. Star Rally Historic 2017 after SS4:
1. Jan Krejča, Pavel Šárka (CZE, Škoda 130 LR) 37:27.3 min
2. Stanislav Budil, Petr Vejvoda (CZE, BMW 2002 TI) + 7.7 s
3. Martin Černý, Jaroslav Krajča (CZE, Lada VFTS) + 21.3 s
4. Paul Chieusse, Tezenas du Montcel Guy (FRA, Renault 5 Turbo) + 27.8 s
5. Kamil Makuchowski, Wojciech Habuda (POL, Honda Civic VTi) + 36.3 s
6. Martin Kučera, Eva Žaludková Eva (CZE, BMW 318 iS) + 1:08.8 min
7. Petr Jurečka, Pavel Jurečka (CZE, Subaru Impreza 555) + 1:13.4 min
8. Jiří Daněk, Tomáš Daněk (CZE, Škoda Favorit 136 L) + 1:14.8 min
9. Vratislav Hýbner, Nikola Hýbnerová (CZE, Peugeot 205 GTi) + 1:16.3 min
10. Petr Michálek, Roman Maryška (CZE, Suzuki Swift GTi) + 1:19.3 min

Days
Hrs
Min
Sec