Articles
Lubomír Tenkl and BMW cars ruled the IX Star Rally Historic
27. 8. 2016 - Jakub Hofbauer
The previous years of Star Rally Historic are known for the dominance of the cars Lada and the past two years it was French Renault, but the current one was topped by BMW cars. Five BMW cars were in the top six and they completely occupied the podium.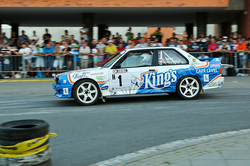 The 9th Star Rally Historic was for the first time part of Czech Rally Historic Championship and that attracted not only guest drivers but also regular domestic drivers competing in the series. From the very beginning there was no doubt about the winner as Czech Lubomír Tenkl with BMW M3 won all stages except for one. For a half of the rally, the second position was held by Jiří Jirovec with the same type of car, but later he dropped to the fourth place. So Stanislav Budil with older BMW 2002 TI took his place.
BMW hegemony was for a long time being disrupted by Jan Krejča with a slightly less powerful Škoda 130 LR, who is one of the top drivers of Czech Rally Historic Championship. Until the end he was clutching the podium, when he slipped off the road for couple minutes, he disappeared from the top ten. Because of his mistake Jirovec is third and behind him is Petr Michálek with Suzuki Swift GTI. Martin Kučera and Lubomír Sychra behind the wheels of their BMWs are on the fifth and sixth position. The only foreign driver in the top ten is Jan Sellholm with Opel Ascona A. Swedish driver was a regular participant on Barum Rally in the 80s, he came back to Zlín after a quarter century and in his debut in Star Rally Historic he took ninth place.
The starting pole thinned during the first two stages in Zlín and Březová as many crews were forced to retire due to technical problems. Only 34 out of 49 crews made it to the end. Spectators could also enjoy about forty cars, which were part of a demonstration ride Rally Legend and their passages were not measured.
IX. Star Rally Historic 2016 Results:
1. Lubomír Tenkl – Jaroslav Vosádka (CZE, BMW M3) 49:08.0
2. Stanislav Budil – Petr Vejvoda (CZE, BMW 2002 TI) + 32.4
3. Jiří Jirovec – Jiří Horák (CZE, BMW M3) +1:02.1
4. Petr Michálek – Roman Maryška (CZE, Suzuki Swift GTI) +1:33.2
5. Aleš Jirátko – Aleš Jirátko jun. (CZE, BMW 2002 TI) +1:44.9
6. Martin Kučera – Eva Žaludková (CZE, BMW 318 iS) +2:19.3
7. Lubomír Sychra – Tomáš Kavalek (CZE, Lancia Delta HF Integrale) +2:28.3
8. Aleš Máčala – Josef Píža (CZE, Mercedes-Benz 500 SLC) +2:34.9
9. Jan Sellholm – Karl-Erik Bäckwall (SWE, Opel Ascona A) +2:57.5
10. Zdeněk Vrátníček – Jiří Michálek (CZE, Volkswagen Golf GTI) +3:25.9

Days
Hrs
Min
Sec