Articles
Star Rally Historic entries revealed
15. 8. 2014 - Jakub Hofbauer, press centre BCRZ
Organizers from Auto Club Rallye Zlín have revealed the entrylist of the VII. Star Rally Historic.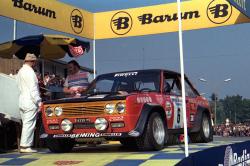 And there will be much to watch! The final list contains 66 entries from the Czech Republic as well as from abroad. There are many various cars - from the older ones like Miroslav Julínek's Škoda Octavia, up to ex-factory Ford Escort RS Cosworth, which used to compete on Barum rally's main field quite recently. There are also several specialities such as never homologated Škoda 160 RS MTX, legendary  Giuseppe Volta's Lancia 037 Rally of or debut of Czech copetitors triad which will compete with historic Subaru, Porsche and BMW in the atumn's La Carrera Panamericana Rally in South America. Rally fans can again look forward to Slovak showmens, father and son Béreš with their gr. B specials by Audi and Mazda. But the biggest star will be Franco Ceccato, who used to compete at the Barum rally at turn of 70s and 80s. Back then, the Italian was driving 4 Rombi Corse-prepared red Fiat 131 Abarth and now, 33 years later he will appear in Zlín again with the same identical car. So the Star Rally Historic 2014 will be a true bridge between the Barum rally history and today!
The complete listo of entries can be found HERE.

Days
Hrs
Min
Sec